We Have Moved
March 20th, 2012
I have just moved my workshop to a new location. However, it is still not open to the public. Please email me first if you need to send anything to me.
Now Shipping Orders Once A Week
March 18th, 2012
To better balance my work load between production and shipping, I will now ship out orders once a week. For customers who have placed orders, please kindly allow me about 3-4 days to enter your order and prepare your shipment. I will email invoice and tracking number to you as soon as I prepare and ship your order out.




History of Developement of the M1911 Knife
November 24th, 2011
I have added a page here on the history of how the M911 Knife evolved into the current design (Gen III). It is now quite amusing to look at the first couple of ugly prototypes, and see the big difference between now and then.



The NEW Matte Finish Stainless Folding Knife
August 16th, 2011
Today I am adding a new type of knife to our product line: the matte finish (bead blasted) knives. It has a non-reflective surface, and will keep on a good cosmetic look after use and wear.
The matte finish will be available on all Standard, Compact Folding Knives and Fixed Blades.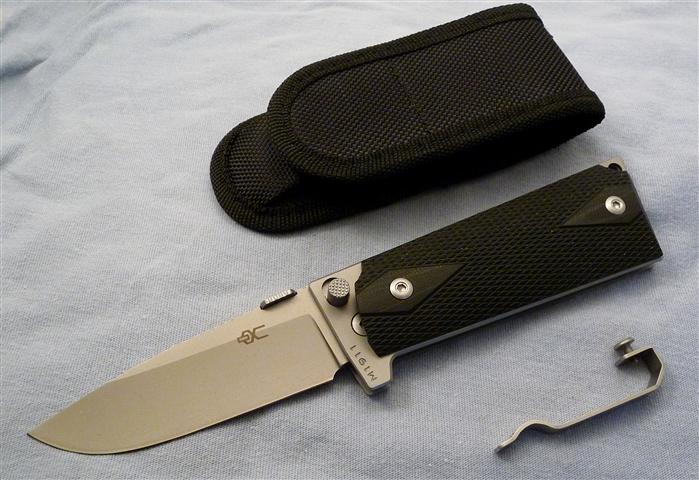 M1911 Knives in the 2011 BLADE Show and Tactical Gear Expo
June 6th, 2011
If you are going to the 2011 BLADE Show and Tactical Gear Expo in Atlanta, GA, you will find our booth in the Tactical Gear Expo, which is co-located with the BLADE Show. Booth #316. All attendees will have access to both shows with one admission.
We have prepared a small quantity of various knives, all fresh from the May-June production, for sales in the show, for example, this one: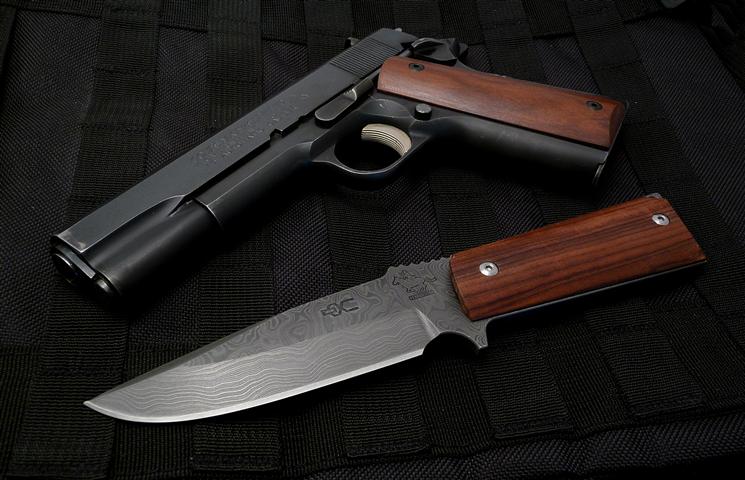 Visit Your Local Dealer
February 24th, 2011
With more and more dealers joining, we now have a number of retail stores selling the M1911 Knives in USA and around the world. If you are about to order a knife, please check out the Dealer List page first. Visit the dealer if there is one in your area, or in the local weekend gun shows. You can buy the knife in the store instead of waiting for it to arrive in the mail, and you have the same Limited Life-time Warranty as buying directly from us.
Local retailers usually provide good and personal service. Support your local businesses.
Customer Gallery
December 25th, 2010
I am finally able to organize and upload all the pictures I received from customers who took pictures of their knives and guns during November and December. Sorry for the delay!
Winners of Picture of the Month, please contact me to confirm your address. I am sending a small prize out to you in January, to thank you for the contribution.
A Special Build
December 19th, 2010
I made a special version of a Compact Folder for a customer, who has a two-tone Kimber Ultra CDP II. As he requested, the folding knife has a black oxide handle and a satin stainless CPM S30V blade. I didn't know it would look so sharp until I have it in my hands.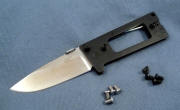 I am hoping that he can take a picture of this knife with his two-tone Kimber after he receives the knife, and send it to me. I will surely post it in my Customer's Gallery.

Added Dec. 23rd, 2010:
The customer who ordered the two-tone Compact Folder has just received the knife. He sent me the following picture. What a beautiful two-tone set!


Coming Soon! M1911 Fixed Blades made of D2 Tool Steel, CPM 154 and CPM S30V
December 18th, 2010
I am trying to use these several type of premium blade steel to make make some M1911 Fixed Blades. The first batch will be just several units of each, as a trial production. I plan to put serial numbers on these blades, just to make sure I don't mix them up with the other 440C blades.

Expect these super tough fixed blades in mid-late January of 2011.
The 2nd Generation of the M1911 Folding Knives
September 24th, 2010
The new M1911 Folding Knives are now almost complete. After several more steps (heat treatment, blade grinding, polishing/black oxide plating, lasering and assembling, ...), they will be ready for ordering and shipping. It will most likely be early/mid October, if anything slow me down further. Here are a few pictures:
I am proud of the 2nd generation of the M1911 Folding Knives, because I made the following improvements based on the original M1911 Folders:
1. Smoothing out the locking mechanism, making it easier for one-hand unlocking.
2. Changing the frame construction to bolts and nuts, making it possible for complete disassembling.
3. Changing the lock thumb stud to look like the mag release on 1911, and enlarging the thumb stud window.
4. Better size and shape of the blade opening disc (now it is narrower but still easy to use).
5. Better tension in the main spring for stronger blade lock-up.
6. Changing the blade grind for better strength.
7. Using a much harder stainless steel to make the handles.
8. Making the blade screw, pocket clip screw and all grip screws in the same head size.
9. Over-size brass washers between the blade and handles.
10. Improving the precision (material) cutting process so less individual adjustments are needed.
11. Better fit between the pocket clip base and the knife frame.
12. Thinner and lighter G10 grips to reduce weight and thickness.
13. Adding two straps to the back of the webbing sheath for horizontal carry.
14. Other small cosmetic changes.
Hope that you like the result of all the efforts I put in there.

Two New Products
September 20th, 2010
This time I am also making the following two new knives:
1. The M1911 "Officer" Compact Folder (with 2.9" blade)
2. The M1911 "All Terrain" Fixed Blade

I have finished prototyping, and am working on a small first production of 100 units of each. Here below are a few pictures of the prototypes. Hopefully the new blades will be ready on schedule and can be shipped out in early October.
M1911 Compact Folders (using Colt Officer grips):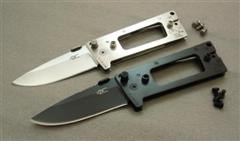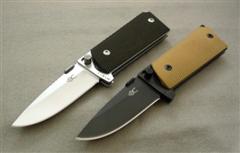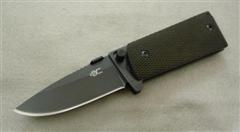 The Improved Pocket Clips III
June 25th, 2010
They are now finally ready! Starting last week I am sending them out to all customers who had requested it via email. It will be FREE OF CHARGE, and will come in in a padded envelope, by fast air mail. Most of them will arrive in a few days.

For those who had bought my knife, please email me if you want a new & improved pocket clip sent to you. Remember to write down your detailed address.

Installing the new Pocket Clip: Please find instructions in the Technical Info page.




Improving the Pocket Clips II
April 22nd, 2010
Prototype of the new Pocket Clip has been made. See pictures.

It is slightly different from the previous design drawing that I posted, because the new one is stronger and easier to install. I am working on tooling to get this made as soon as possible.

Again, knife owners are welcome to email me with your address, so I will send this new clip to you when it is ready.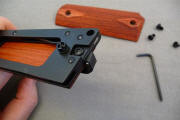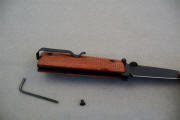 Monthly Prize For the Best Gun & Knife Picture
April 18th, 2010
Starting April 1st, I will send a prize once a month to the knife owner who sends the best gun & knife picture for the Knife Owner's Gallery. It will be determined on the last day of each month who wins the prize.
However, I may not be able to find contact info for all winners of the "Picture of the Month", since I do not post customers' full name. If you see your picture wins, please email me and confirm your address. This will make it much easier for me to send the prize to you. Thanks.




Our Online Shop is OPEN for Business. Finally.
April 6th, 2010
After a lot of attempts and failures, our e-shop, powered by Yahoo! E-Commerce, is finally ready to take orders. It will be able to process most of the major credit cards, and will work out shipping details with customers while they place the order.

Click on the products on my left-side menu to enter my shop.

Here I'd like to thank Steven from California, a new M1911 Folding Knife owner, who provided so much help and guidance in building the shop. Thank you, Steven.




Improving the Pocket Clips
April 2nd, 2010
We have finished the design of a new improved pocket clip.
The first generation pocket clip has been a wire clip and we have to make one for the left and one for the right. We will make a flat version of the clip which can be used on either side of the knife. It is based on Method B (see Technical Info Page) of clip installation and will be easier and faster to install than Method A.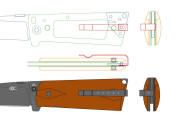 The new clip will be made in late April, and will be available to all M1911 Knife owners in May, and will replace the current wire pocket clips. Owners of the knife who is interested in having the improved clip please send us an email request with your address. We will send the new clip to you free of charge. However, we may still make changes to this new clip design until it is made. Here is a drawing of the new clip. Got suggestions? Please email me.




Group Buys & Discounts
March 19th, 2010
We have just successfully completed a group buy order with Northeast Shooters. Some of their members have enjoyed significant saving on both product and shipping costs.
Please contact me if you are interested in organizing a group buy. We can talk about possible quantities, discounts and shipping methods.



2nd Hex Key will be provided
March 15th, 2010
Some customers have pointed out that the allen heads of blade adjustment screw and the wire clip screw were made slightly bigger than that of the grip screw, and the provided hex key could slip or strip out those 2 screws. Well, they are right.

From now on, I am providing a 2nd hex key in each package until the next production - one that is slightly bigger and could be used to adjust the blade tightness and tighten the clip screw.

For customers who have already received their knives, if you need this 2nd hex key, please contact me and provide your address. I can send one of these bigger hex keys to you in an envelope.




Ultimate Equipment is exhibiting in SHOT Show 2010!
January 15th, 2010
Terry will attend the 2010 SHOT Show in Las Vegas from Jan. 19th to 22nd. Booth #2651.
During this week, we won't be able to do any shipping. For people who place orders during this week, the knives will be shipped on Monday, January 25th. Sorry about the delay.



Alternative Method of Installing the Pocket Clip
January 12th, 2010
There is an alternative method of installing the pocket clip. It is easier to do, and the clip stays closer to the grip. Please see the updated installation instructions and pictures.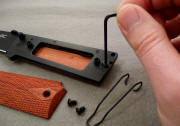 More Options!
December 20th, 2009
We have expanded the product selections slightly, to provide all three types of grips to each of the blade material. As a result, you can now practically choose any blade + grip combination.
At the same time, there is a small price adjustment for the black G10 grips, due to higher costs.
See my new price list and product pictures in the Products page.



Customers' Photo Gallery
December 16th, 2009
Some of my customers have posted some very nice gun + knife pictures in several discussion forums. It is a shame to just let them disappear over time.
I am building a Customer Gallery page. I will post there pictures I've got from customers. It will be a fun read!
Should be able to complete this by Dec. 20th.