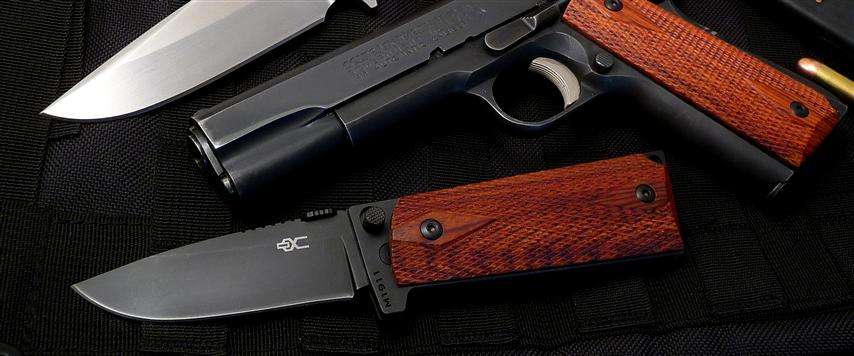 FREQUENTLY ASKED QUESTIONS:
1. ORDERING & SHIPPING
a. How do I place an order
?
We have a web store with Shopify. Following the "M1911 Knives: The Collection" link, you can order directly on my web site, and can choose to pay with your credit card or PayPal. We will get your order instantly and will start the shipping process right away.
However, contact us by email if the web store is not working (sometimes), or is not able to handle a more complicated order, e.g. group buys, special builds or dealer shipments. We can process the order via email, or can provide a special coupon to be used on check-out.
b. Who pays for shipping? And how much for shipping cost?
The buyer pays for shipping.
Shipping costs usually charged when checking out:
- $12 for western provinces of Canada, by expedited parcel.
- $15 for eastern provinces of Canada, by expedited parcel.
- $17 for 48 continental states of USA, by regular air parcel (5-7 days).
- $25 for 48 continental states of USA, by express (3-4 days).
c. How soon could you ship after payment has been made?
Assembling the knife ordered takes some time. I may not be able to ship on the same day, even if I have that item in stock. It usually takes a couple of days before I ship.
For items that are out of stock or currently in production, it will take a bit longer. The best way to find out is to contact me for product availability or estimated shipping date before you order.
2. PRODUCT DETAILS:
For questions on knife details such as blade steel, locking mechanism and pocket clips, or guides and instruction on how to use the knife, please visit the Technical Info Page. If you cannot find answers there that you need, please email me.
3. WARRANTY:
Please go to the Warranty Page for explanations on Ultimate Equipment's limited life-time warranty.
4. GRIPS YOU CAN USE ON THE KNIFE:
"Can I change the grips on the knife?"
"Will standard 1911 grips fit on your M1911 Knife?"
The answers are both "yes". The M1911 Folding Knife is made with standard 1911 grips, grip screws and grip bushings. As a result, the grips that come with the knife are standard 1911 grips. This means:
a. You can customize your knife any time by changing grips.
For example, G10 grips for daily carry or exotic wood grips for show. Options are endless.
b. Your 1911 knife could be different from any other one in the world if you put on your own grips.
See how people change their knives in the Customer's Gallery.
c. You could make a matching gun & knife set.
5. REPLACEMENT PARTS & ACCESSORIES:
You can request replacement parts and accessories when or after you place an order. Just let me know what kind of parts you need. For assembling parts, I would be happy to provide for free. Some parts such as grips, grip screws and knife sheaths, they are available for ordering.
From time to time I have improved parts that I will send out to all customers for free. Please come back to my web site from time to time to check out the updates. Email me if you would like to have the new parts sent to you.
6. WHY DO I HAVE TO WRITE DOWN MY EMAIL AND PHONE NUMBER WHEN I ORDER?
Email and phone number are very important if I need to contact the buyer about shipping date, address, product change or any other thing about his/her order. DO NOT LEAVE A FAKE EMAIL or an email account that you won't check regularly.

I am not a spamer, and am too busy to send any spam. My web site is primitive and does not automatically generate any emails. I won't send anything to a buyer or call unless I need a decision from him/her.